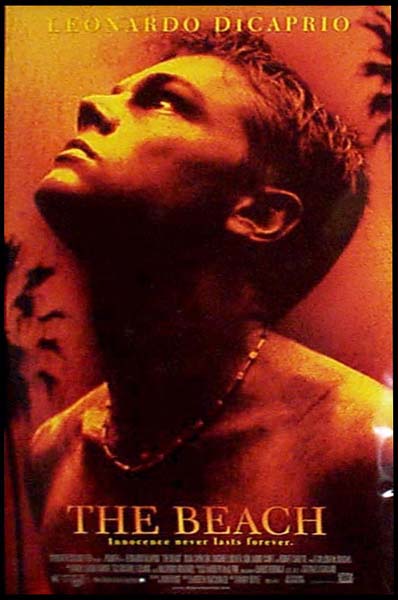 Character:
Richard Fisher
Other cast:
Tilda Swinton, Virginie Ledoyen, Guillaume Canet, Robert Carlyle
The wonders of modern technology, like computers, video games, cell phones, pagers and the Internet, were designed to make our lives more enjoyable and facilitate communications. Yet for many, the complexity of the digital world is overwhelming, leading to a feeling of unreality … of being disconnected. The desire to find something real – to connect with something or someone – is what drives Richard (Leonardo DiCaprio), a young American backpacker who arrives in Thailand with adventure on his mind. Travel, he asserts, is the search for experience, the quest for something different. At a cheap hotel in Bangkok, Richard meets a French couple, Etienne (Guillaume Canet) and Francoise (Virginie Ledoyen). He also encounters Daffy (Robert Carlyle), an older traveler ravaged by years of sun and drugs. Rambling and paranoid, Daffy tells Richard the improbable tale of a secret island, a paradise on earth: the perfect beach, unsullied by tourists. The next day, Richard finds a piece of paper pinned to his door. It is a hand-drawn map of the island described by Daffy. This, Richard realizes, may be the "something different" he has been looking for. He goes to find Daffy only to discover his corpse, the crazed man's wrists slit by his own hand. Richard persuades Francoise and Etienne to join him and they set off on a journey, following Daffy's map. To get to "the beach" they must risk their lives by swimming across an open sea from one island to another, crawling past armed guards and jumping from the top of a 120-foot waterfall. Reaching their destination, they find a small community of travelers like themselves, living in secret. They are welcomed into the group, and the island paradise becomes their home, sapping them of all will to return to the world they knew before. Yet beneath the surface, this heaven on earth is less than perfect. Personal conflict and petty jealousy ferment to create a violent rivalry, and a series of tragic events fragments the community. Increasingly isolated and disturbed, Richard finds himself more than witness to an incident of bloodshed. The dream has become a nightmare; paradise has turned to hell. Now his only goal is to leave. But escape will not be easy, for the beach is a secret place, a secret that some will defend to the death.
Deleted Scenes
Here are the 9 deleted scenes summaries which I have wrote for you that do not have the DVD.
1. Alternate Opening– Richard character talks about the futility he feels being a young adult about to enter the job market, and why the possibility of experiencing something exotic and dangerous seems attractive. It starts off in a livelier, funnier vein that the opening they went with. This scene starts out with Richard using the computer a screen shows Excite then goes to the search box and types in the word Paradise. The scene moves on to him at the Budda Statue and a man with a little car called a Tuk Tuk offers to take him to Kao San Road where there are cheap hotels. Richard asks how much they deal with the price negotiating then hands him a super soaker. People come by on another Tuk Tuk and splash Richard with the gun. The man then explains it the Thai New Year. Richard gets in the Tuk Tuk and they ride down the street. As they pass another Tuk Tuk and people on the street Richard starts shooting his gun at people then without warning they hit him too he is soaked. The man leaves him on Kao San Road. He walks down the street and the scene ends.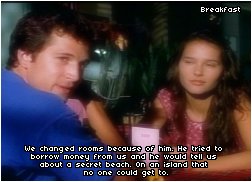 2. Breakfast– Françoise and Etienne sit down to breakfast they glance over at Richard who isn't sitting to far away from them.  They talk to him saying that they hope he slept good because of the noise Richard thought they were talking about themselves, but Etienne says no the Scottish fellow. They had to change rooms because of him and that's when Richard learns about the beach for the first time. He thought it would great if there was a place like that if it existed then Etienne says if there is a place like that then these people would all be there. He was talking about the townspeople.
3. Did you tell anyone? – Richard talks about letting other people know about the island and Etienne and Françoise says it is not a good idea to mention the island to anyone saying what's the part in saying it's a secret beach if we tell anyone. It being a secret is the whole point. From that scene they head off to meet the fisherman who is going to take them to the island across from the beach.
4. We're not going back-This scene is where they escape being noticed from the farmers. Etienne and Françoise argue saying they should go back. That Françoise is frightened as well as he is. Richard agues he is not going back. He says somewhere over there is paradise and I am not going back.
5. Short Announcement-He speaks in French. Etienne announces to the camp members that he knows about the affair between Richard and his girlfriend Françoise (Virginie Ledoyen), "so you don't have to talk behind my back." He adds that he wants to remain with the commune because he loves the lifestyle and the environment. There's a great shot of a guilt-ridden Richard reacting to this while playing cards. Richard looks down smoking a cig looks over at Etienne and doesn't say a word just continues playing cards with a frown.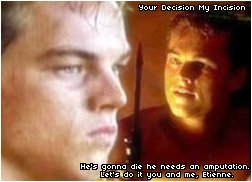 6. Your Decision My Incision– My Decision Your Incision it should have read, but here's the scene. Sal and Richard see Zeph and Sammy and talks about the Sten in the ground and Christo still alive he goes to the tent in the forest. Etienne tells Richard don't pretend you care. Richard explains I do just not in the way you think as well as the others. Richard tells him he is in siege mode. He doesn't explain the details. Etienne shows Richard the gangrene leg. Richard excitedly tries to make Etienne cut off the gangrene-infected leg. Saying come on you worked in a hospital Etienne explains yeah as a cleaner. Etienne tries to cut his leg but fails the attempt to amputate. Richard calms him down and says all right you can imagine the risks.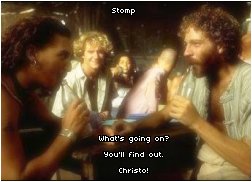 7. Stomp-During the scene when Richard and Etienne are at the table asking about the farmers two men start blowing into bottles and everyone joins in to play, dance and sing. This is a musical sequence in which the camp members perform an impromptu jungle-drum number, which I especially like. Richard and all the members start playing into the music number and go back to the table to eat.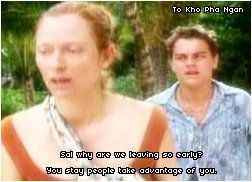 8. To Kho Pha Ngan– Richard sound like he has a cold. They leave to Kho Pha Ngan. Sal and Richard have to swim a very long distance underwater in a cave, and nearly drowns. Sal tells him that which does not destroy us only makes us stronger. Richard asks about Daffy and why he went crazy. Sal says daffy was just playing crazy.
9. Alternate Ending– We see commune leader Sal commit suicide after the group has left, and then a fade into shots of the group floating back to civilization. A boat picks them up. Everyone goes onto the boat, but Richard stays in the little man made boat Sammy and Zeph made. Richard remembers everything on the beach. Francoise glances at Richard still on the man made boat and goes with Etienne. Everyone leaves him and that's where the scene ends.
You could call me a lot of things," says DiCaprio/Richard, "but the coolest and most truthful thing you can say is that I'm a survivor. That I've been there and I've done that and I've reduced it all to nothing – to a story that I tell. Maybe you're not like me. Maybe you wouldn't do this or you wouldn't do that. You don't know for sure. And if you're lucky, you never will.
This part is not complete yet.
That I Richard am gonna carry a lot of scars.
Much better than that hokey upbeat ending they went with in the final version, with DiCaprio receiving that feel-good e-mail photo of the communards together on the beach.
Music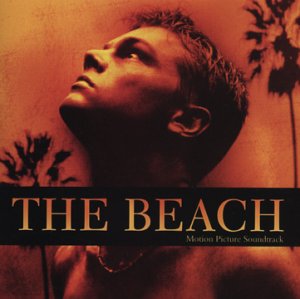 1. Snakeblood – Leftfield
2. Pure Shores – All Saints
3. Porcelain – Moby
4. Voices – Dario G
5. 8 Ball – Underworld
6. Spinning Away – Sugar Ray
7. Return of Django – Asian Dub Foundation
8. On Your Own – Blur
9. Yeke Yeke [Hard Floor Mix] – Mory Kanté
10. Woozy – Faithless
11. Richard, It's Business as Usual – Barry Adamson
12. Brutal – New Order
13. Lonely Soul – U.N.K.L.E.
14. Beached – Angelo Badalamenti
From The Beach Trailers
Touched – Vast
Dolphin's Cry – Live
The Beach Motion Picture Score
1. Bizarre City
2. Beach Theme [Swim to Island]
3. Vision of Fantasy
4. Mournful Myth
5. Starnight
6. Killing Fields
7. Blue Sex
8. Beach Theme [Mythical Waters]
9. Grassmark
10. Daffy's Done
11. Mystery of Christo
12. Pure Victims
13. Pursuit of a Shark
14. Waterfall Cascade
15. Dreamburst

Script
Download Here