Character:
Roger Ferris
Directed by:
Ridley Scott
Written by:
William Monahan (screenplay), David Ignatius (novel)
Produced by:
Michael Costigan
Other cast:
Russell Crowe, Mark Strong, Golshifteh Farahan
Release date:
October 10, 2008
Genre:
Action, Drama, Romance
Running time:
2h 8min
A former journalist injured in the Iraq war is hired by the CIA to track down an Al Qaeda leader in Jordan. Based on the novel "Body of Lies" by David Ignatius. A CIA operative is sent to Jordan to track a high-ranking terrorist. The spy is aided by the head of Jordan's covert operations in an uneasy alliance that leads to cultural and moral clashed between the men.
Filming Locations
Annapolis, Maryland, USA
Baltimore, Maryland, USA
Gaithersburg, Maryland, USA
Rabat, Morocco
Washington Dulles International Airport – 45020 Aviation Drive, Sterling, Virginia, USA
Washington, District of Columbia, USA
White House – 1600 Pennsylvania Avenue NW, Washington, District of Columbia, USA
Soundtrack Information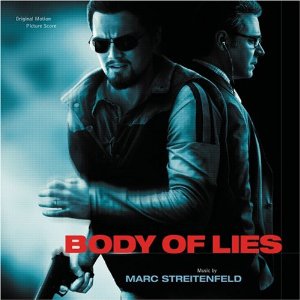 White Whale (2:14)
Punishment (1:36)
To Amman (2:42)
Aisha (2:11)
All By Himself (1:32)
Burning Safehouse (1:46)
Al-Saleem (2:05)
Manchester Raid (2:40)
Chased (1:35)
NSA Speech (2:46)
Tortured (2:13)
Dead Sea (1:16)
No Touch (1:21)
I am Out (2:37)
Rabid Dogs (2:49)
Lost Vision (2:00)
Never Lie To Me (1:14)
I shutter to think (2:27)
Half Steps (1:28)
Making the Call (1:11)
My Fault (1:53)
Betrayal (3:31)
Script
Download here