Leonardo DiCaprio to Narrate New IMAX 3D Space Film Hubble 3D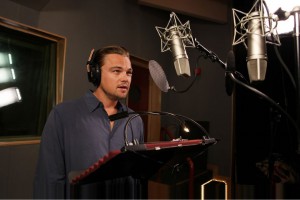 Journey Begins Exclusively in IMAX(R) Theatres Starting March 19, 2010
LOS ANGELES, Jan. 13, 2010 (GLOBE NEWSWIRE) — Warner Bros. Pictures Inc. and IMAX Corporation today announced that three-time Academy-Award(R) nominee Leonardo DiCaprio will narrate Hubble 3D. The latest IMAX(R) 3D film from the award-winning team behind Space Station 3D and other successful IMAX space films, led by producer/director Toni Myers, is scheduled for release to IMAX(R) theatres beginning March 19, 2010. Hubble 3D will combine awe-inspiring IMAX 3D footage shot in space with breathtaking, never-before-seen 3D flights through Hubble imagery from the Orion Nebula to the far reaches of the cosmos. The film is the fourth IMAX 3D co-production between the two companies.
Source: globenewswire.com
Even though this Ecopia special message is dubbed in Japanese you can slightly hear Leo's voice in the voice-over. Go here to see Leo's special message.
Gallery Updates:
Hubble 3D
Ecopia
Shutter Island Storyboards
Super Pop Scans