Leonardo DiCaprio & Venturi Automobiles team-up to launch tenth and final Formula E team also today is the Premiere of The Wolf of Wall Street in Paris.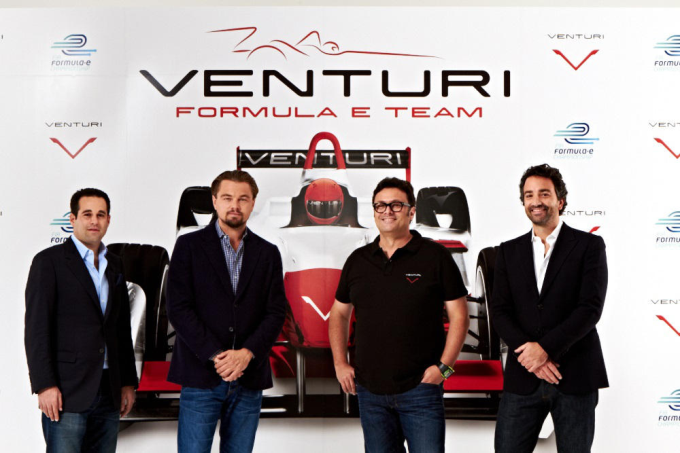 Venturi Automobiles today (9 December) announced a joint venture with award-winning actor and environmental activist Leonardo DiCaprio to enter a team in the new FIA Formula E Championship – the world's first fully-electric race series beginning in September 2014.
Based in Monaco, the new Venturi Grand Prix Formula E Team has been co-founded by DiCaprio and Gildo Pallanca Pastor, founder of pioneering EV manufacturer Venturi Automobiles, together with Bert Hedaya and Francesco Costa.
Source: fiaformulae.com
In 2007, Leonardo DiCaprio won a bidding war against Brad Pitt for the rights to Jordan Belfort's memoir The Wolf of Wall Street, which followed the downward spiral (and eventual jailing) of one of the Street's brightest stars as he got hooked on drugs and prostitutes — while the FBI nipped at his heels. "It was almost like a modern-day Caligula," says DiCaprio, who stars as Belfort alongside Jonah Hill as his henchman Donnie Azoff in a movie that also features Matthew McConaughey and Margot Robbie in prominent roles. The film held the promise of reuniting DiCaprio with director Martin Scorsese (The Departed), but nobody wanted to finance it until indie producer Red Granite Pictures agreed to fully fund the $100 million-plus drama, which Paramount is releasing domestically.
Source: THR
Following months of speculation on whether it would make it in time for the 2013 Oscar race, Martin Scorsese's "The Wolf of Wall Street" finally started screenings for guilds over the weekend, beginning with a Saturday afternoon show for SAG nominating committee. And the response was as boisterous and wild as the ride on which stockbroker Jordan Belfort—played by Leonardo DiCaprio—takes the audience over the course of three hours. Yes, it's official: The film runs three hours. But the crowd didn't seem to mind, laughing enthusiastically up until the end.
Source: Variety
We got several new stills thanks to Leonardo DiCaprio on facebook and Mobli. Also don't forget, about the People's Choice Awards. Leo fans have until December 5th to vote for him in these following categories: Favorite Movie Actor, Favorite Dramatic Movie (The Great Gatsby), and Dramatic Movie Actor. Make sure you vote everyday and/or multiple times a day.